Gesto for iOS 13/14
Alessandro Chiarlitti and Gabriele Filipponi
Screenshots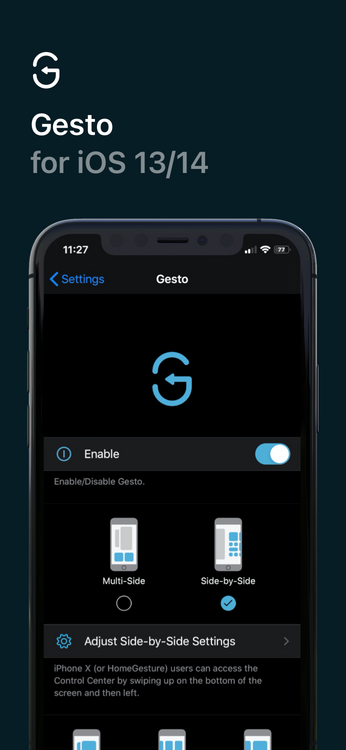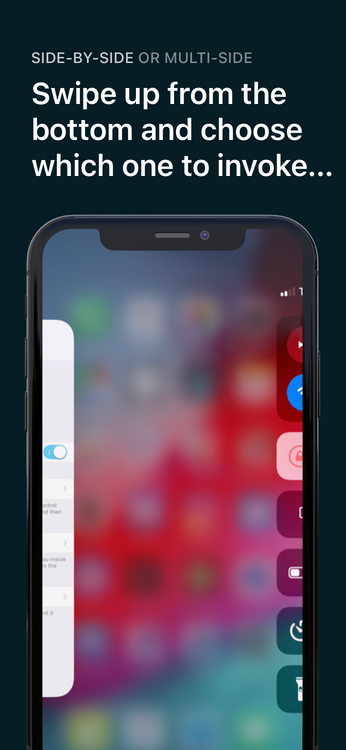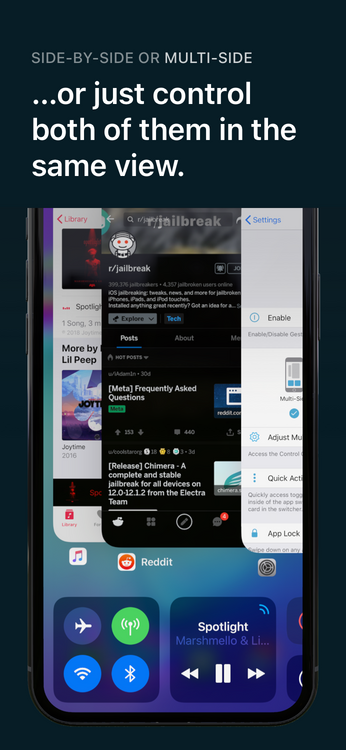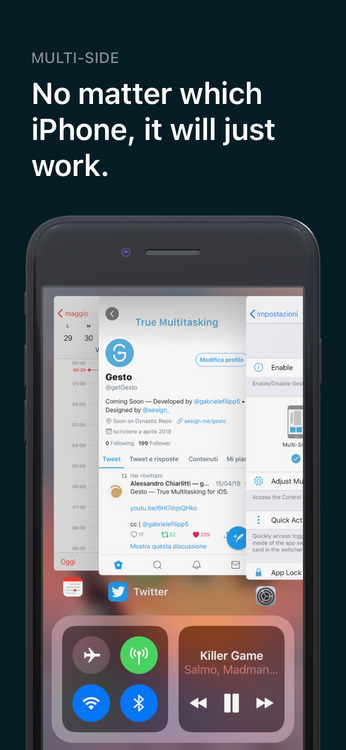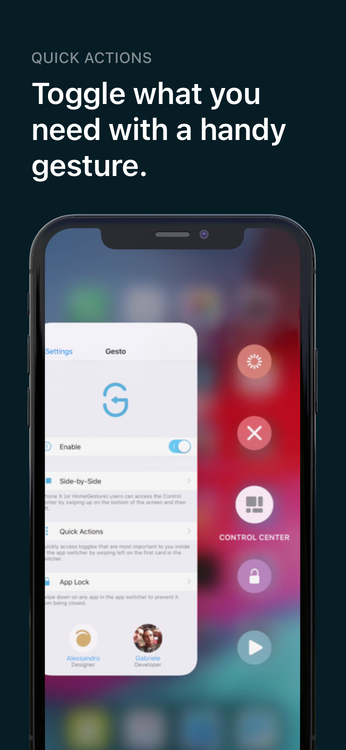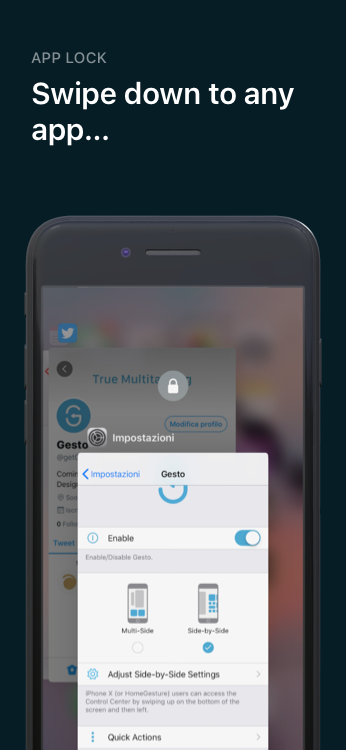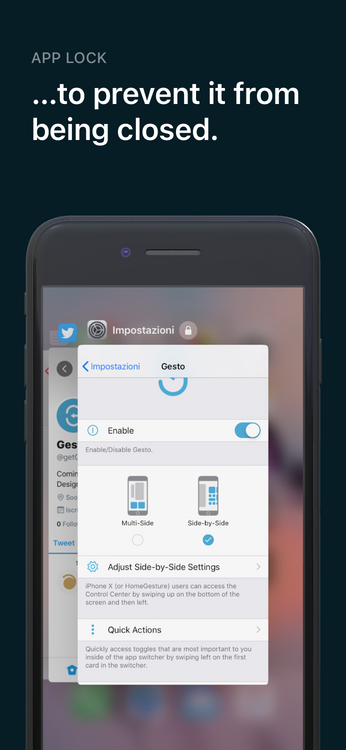 Description
True Multitasking
See Gesto for iOS 11/12 compatibility
Gesto for iOS 13/14 supports all iPhones and iPads up to iOS 14.x.
Note: iPads don't support Mult-Side.
Gesto enhances iOS's multitasking view, making it powerful yet familiar, with a native-looking design and gorgeous animations.
CC + App Switcher
Multitasking is now more true than ever. Gesto lets you combine app switcher and control center in two ways:
Multi-Side
App switcher and control center in the same view, the first at the top and the latter below, explorable by just swiping horizontally; giving you the best multitasking experience ever. It awesomely fits with all iPhones, from the smallest to the largest. Multi-Side is not currently compatibile with iPads.
or
Side-by-Side
iPhone X users, there's no need to adjust your grip to reach the top of your screen! Just swipe up from the bottom of screen, then left. Need to quickly go to your app switcher? No problem, just swipe to right. If you use tweaks like HomeGesture (or similar) to enable iPhone X gestures on other devices, no worries: it'll work like magic.
Quick Actions
Toggle what you need in a swipe without leaving your app switcher. You can access your CC, clear your apps, control your music and battery and much more with ease, all by swiping your first card in the app switcher to the left.
App Lock
Never accidentally close an app you need open again. Swipe down on any app in the app switcher to lock it, preventing you from closing it by mistake.
Linear Switcher
Nostalgia of iOS 7-8 app switcher? We've got you covered.
Grid Switcher
With Gesto, you can now enable the Grid Switcher even to an iPhone.
What others said about Gesto:
"Gesto augments your iOS handset's App Switcher with powerful new features and integrations with the primary goal of making multitasking easier. And let us just say, based on our mind-blowing hands-on experience, this isn't a tweak you'll want to miss."
— Anthony Bouchard (Writer for iDownloadBlog) Read the entire Gesto review.
"A worthy successor of Auxo."
— Coolstar (Lead Developer of Chimera)
"Not only does this Gesto dramatically speed up how I use my iPhone, but it does so in such an intuitive, Apple-like way that it could pass for a stock iOS feature."
— Ayden Panhuyzen (Developer of ShortLook & Ultrasound)
Designed by Alessandro Chiarlitti (aesign)
Developed by Gabriele Filipponi
What's New
Fixed a bug that could cause a crash on iOS 13 devices.
Alessandro Chiarlitti and Gabriele Filipponi
Developer
Help with Gesto for iOS 13/14